PAN India Telemedicine app is launched by Neucrad Health Hub India LLP, West Bengal based HealthTech Startup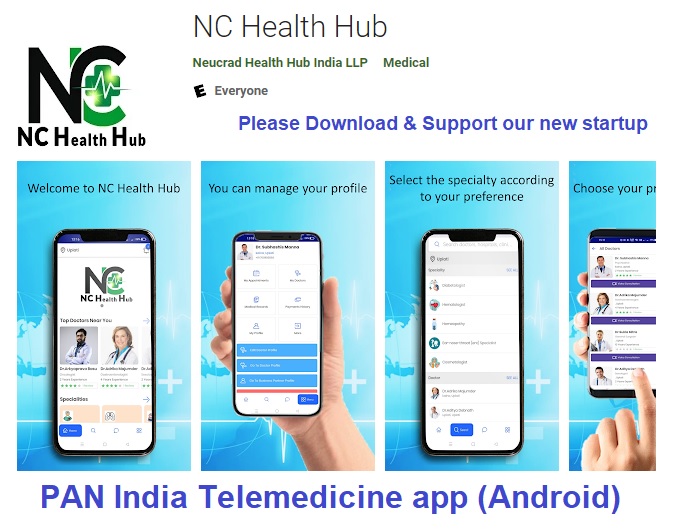 Reading Time:
3
minutes
News Desk, Neucrad Health, February 22, 2022
Increasing focus on patient-centric care, emergence of advanced technologies, and changing business models have played a crucial role in driving the healthcare apps market in India. Neucrad Health Hub, a new healthtech startup, is adding it's android version of telemedicine app in the market. The startup is registering physicians across India now and its telemedicine services will be available from March' 2022.
Dr. Biswarup Ghosh, PhD, a neuroscientist and biochemist in US, is the Co-Founder of this new healthtech startup. Dr. Ghosh has been engaged in bringing health literacy among general people since years. He is very popular in social media for his outstanding health science awareness campaigns specially in Bengali and English languages . During second wave of COVID-19 pandemic in India, Neucrad Health introduced free telemedicine services with several empathetic physicians. Hundreds of patients and families got benefitted through the services. Neucrad team along with some volunteers helped several people during the crisis by providing them resources of oxygen, ambulances, medicines, blood, and availability of beds in different hospitals.
"In rural India, health services are being compromised due to several issues including 1) non availability of sufficient experienced specialists (Physicians) in rural area, 2) limitation of ethical mindsets of some health care providers who want to keep patients even if the disease indications are beyond of their expertise, 3) poor health literacy among general people" – said Dr. Ghosh. He mentioned Neucrad health startup will not only provide PAN India telemedicine services, it will also be focused to develop health literacy among general people. He mentioned that NC Health Hub, a healthtech startup, is focused to bring solutions of the odds in the current practice. "Significant changes are needed for bringing value based health care services. Good Health is our principal asset. There are enough room in India to start new initiatives. There are enough causes to add values in your services. Our approaches might help to defeat the odds. Let's bring back values, empathy, authenticity, and quality health services for our society. We are focused to enrich the value based tech health care services by adding some other type of services (secret sauce) in upcoming years to be competitive in India." – Dr. Ghosh said.
Neucrad Health Hub aims to provide high quality, approachable, and pocket-friendly digital health care services for all residents of India. Their mission is to provide affordable, value based, precise, extensive digital health management which will entitle users to make focused and informed health related decisions. Its customer services is committed to help general people in navigating their requirements with values and empathy. Neucrad Health Hub opens up limitless possibilities for a route which will lead everyone to a happier and healthier life.
Features of the app:
– Video consultation with Registered verified Doctors
– Specialist Doctors' consultation via video call
– Receive e-prescription
– Upload previous medical history & share reports with doctor
– Appointment Reminder
– View appointment details and history
– Follow up on Chat
– Read health feed articles
– With an app you can maintain your doctor profile, patient profile, business partner profile
– Doctor can easily create & edit your own profile
– Advance Calendar (Doctor Can keep a track of their daily schedules)
– Doctor can easily create Online Consultant Slot 15/30 mint slot
– Drug List
– Business Partners
Media contact:
Arijit Banerjee

Digital Health Operational Manager

Neucrad Health Hub India LLP, East Burdwan, W.B

email: [email protected]