Go through the Issued Factsheets before receiving the Covid-19 Vaccines in India: Covaxin and Covishield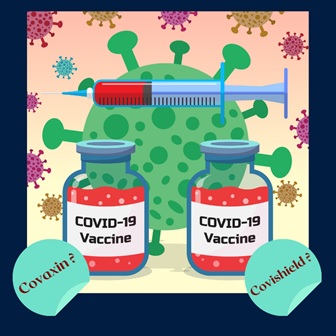 Reading Time:
3
minutes
Dr. Juni Banerjee, Neucrad Health Desk, February 1, 2021
Covaxin and Covishield are the two major Covid-19 vaccines that have been recently approved for the ongoing vaccination drive in India. Both the vaccines are 2-dose shots given 4 weeks apart that gets administered as an intramuscular injection. About 3,81,305 persons have been vaccinated for covid-19 throughout 7,704 total sessions so far. Interestingly, provisional data from the ongoing vaccination drive has indicated some adverse effects on at least 580 persons. Such phenomenon is known as Adverse Event Following Immunization (AEFI) that includes complains of fever, headache, nausea etc following a vaccination. 
The Covishield has been approved for restricted use in emergency situation vaccine that may prevent COVID-19 disease in individuals 18 years of age and older. Covaxin also approved for the restricted and emergency-based situation faced quite some controversy for receiving the green signal approval on a "clinical trial mode" when its third trial phase is still due! Further eyebrows got raised when the death of a few persons from various parts of India following the covid-19 vaccination got reported in the media news. However, the deaths are controversial for if related or not to the vaccination itself. Of note, Health Minister Harsh Vardhan suggested tracking for all the vaccine recipients. 
Side-effects of Covaxin and Covishield:
Covaxin: Side-effects include injection-site pain, swelling, redness and itching; stiffness and weakness of the vaccinated arm; body ache, fever, headache, general weakness, malaise, rashes, nausea and vomiting. Recipients have been warned and alarmed to declare for their allergy histories (if any), otherwise severe allergic reactions leading to difficulty in breathing, swelling of the face and throat, fast heart-beat etc. can be the unfortunate outcomes!
Covishield: Side-effects include tenderness, pain, warmth, redness, itching, swelling, bruising, a lump at the injection site; fatigue, chills and fevers, headache, nausea, joint pain and muscle pain, vomiting issues, flu-like symptoms e.g. runny nose, sore throat and coughs; feeling dizzy, excessive sweating, body rash, enlarged lymph nodes. Recipients have been strictly instructed to disclose their previous experiences of any severe allergic reaction (anaphylaxis) following any drug, food or any vaccine!
Who Should avoid taking Covaxin and Covisheild:
Covaxin: According to the fact sheet posted on Bharat Biotech's website, it is advisable to avoid taking Covaxin in the following conditions, symptoms or situations:
If the person has allergies, fever, bleeding disorder or is on a blood thinner, weak immunity, been depending on medicine that affects their immune system.
the pregnant and breastfeeding women.
those who have received another Covid-19 vaccine.
Any other serious health-related issues as determined by the officer in charge of vaccination.
Of note, Bharat Biotech has notified that in case of any serious adverse events, vaccine recipients will be provided with a medically recognized standard of care in the government designated and authorized centres/hospitals. Moreover, the compensation for the serious adverse event will be paid by the sponsor (BBIL) if the consequence is proven to be causally related to the vaccine.
Covishield: Individuals who should avoid being vaccinated with Covishield are the following:
Those who had severe allergic reactions after a previous dose of the vaccine.
Experience severe allergic reaction to any ingredient of this vaccine who are-Histidine, L-Histidine hydrochloride monohydrate, Magnesium chloride hexahydrate, Polysorbate 80, Ethanol, Sucrose, Sodium chloride, Disodium edetate dihydrate (EDTA).
Pregnant women should also avoid taking this vaccine.
Conclusion:
Jammi Nagaraj Rao, a public health physician and epidemiologist from the United Kingdom expressed his opinion that Phase 3 having a larger cohort of participants will enable the more infrequent side-effects of the vaccines to be picked up. Rao stated, "Also, scientists will get a more accurate estimate of the probability of the common side effects". It is during the process of obtaining informed consents that participants are made to understand that they must report side-effects and remain in touch for follow up and monitoring. Henceforth, it's very important to know one's own health priorities before giving consent for receiving the Covid-19 vaccine in India.
References:
Bhuyan A. India begins COVID-19 vaccination amid trial allegations. Lancet. 2021;397(10271):264. doi:10.1016/S0140-6736(21)00145-8\
https://vaccine.icmr.org.in/covid-19-vaccine
https://www.bharatbiotech.com/covaxin.html
https://www.bbc.com/news/world-asia-india-55632782
https://science.thewire.in/health/bharat-biotech-serum-institute-covaxin-covishield-fact-sheets-benefits-and-risks/
https://www.bmj.com/content/372/bmj.n196