Nipah Virus Infection Confirmed Again in South India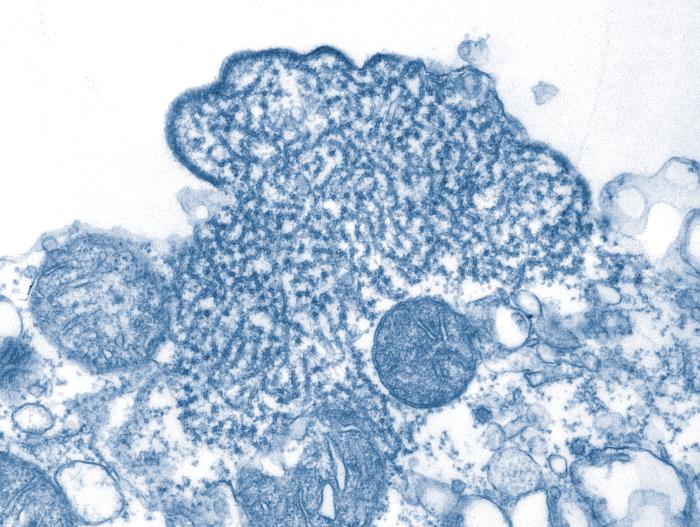 Reading Time:
3
minutes
By News Desk, Neucrad Health India June 7, 2019
A 23-year-old man was admitted at a private hospital in Ernakulam on 30th May 2019 after suffering from fever for the last ten days. Health officials suspected Nipah virus infection after examining his associated symptoms and sent his blood samples to the National Institute of Virology (NIV) in Pune and Alappuzha. After a few days, NIV Pune confirmed the presence of Nipah virus in the patient's sample. Kerala Health Minister, Mr KK Shailaja validated the Nipah case in Ernakulam. However, he assured the general public that there is no reason to panic as health authorities across the states are taking proper preventive measures so that this potentially dangerous pathogen does not spread to other people.
What measures is the Kerala Government taking for preventing the spread of Nipah?
The Kerala Government is undertaking all possible preventive measures to stop the spread of Nipah virus. They have put all the 86 individuals who were in close contact with the 23-year old student under medical observation. Doctors prescribed preventive medicines to two nurses who treated the Nipah victim after they complained of throat discomfort.
The Ernakulam student was actually studying at Idukki and travelled with 22 other pupils to a company in Thrissur for undergoing an internship programme. The Kerala Government has traced all those 22 fellow students who were with the victim in Thrissur and recommended medical observation for them. Besides, hospitals in Kerala have set up 'cough corners', and Medical Colleges in Thrissur, Ernakulam and Kozhikode have organised 'isolation wards'. The Government is taking up this issue very seriously since a similar Nipah outbreak in 2018 claimed 17 lives at Kozhikode and Malappuram districts. District administration has asked people to ring up 1077 to clear their doubts and apprehensions about the disease.
What is the current status of the Nipah outbreak in South India?
After the confirmation of the Nipah virus in a 23-year-old student in Ernakulam, the entire southern states of India are in a panic-stricken state. The Karnataka government has also issued an alert in eight districts which are close to Kerala border on 6th June 2019. District authorities have kept areas including Chamarajanagar, Mysuru, Kodagu, Udupi, Shivamogga, Dakshina Kannada, Uttara Kannada, and Chikkamagaluru under observation.
Veterinary Department, Indian Medical Association and Indian Academy of Paediatrics of these places are conducting inter-departmental coordination committee meetings for discussing the preventive measures and treatment procedures in case of spread of the virus in their jurisdiction. Government has asked them to set up isolation beds to quarantine suspected Nipah victims. Doctors should also monitor patients for acute encephalitis syndrome if they complain of Nipah symptoms. The district hospitals have arranged an ICU with ventilator facilities for treatment of Nipah patients.
What is Nipah Virus?
Nipah virus usually infects animals, including pigs and fruit bats. They can spread from one animal to others; however, in some rare cases, it can also affect human beings. The World Health Organisation (WHO) reports that the mortality rate of Nipah infection is about 40 – 75 per cent in human beings. People can acquire this disease when they consume fruits bitten by infected bats, or if they come in direct contact of animal's excreta. The first significant outbreak of Nipah virus occurred in 1998 in Malaysia, where it claimed 100 lives. In 2001, another outbreak occurred in West Bengal.
What are the symptoms of Nipah infection?
The signs of Nipah infection include:
Fever with headache
Discomfort in throat
Myalgia or muscle pain
Dizziness
Vomiting
Acute respiratory syndrome
Pneumonia
In some cases, patients may also show symptoms of encephalitis when infected by Nipah virus like disorientation, drowsiness, seizures (may occur within 24-48 hours). Sometimes patients may even go into a coma, which can eventually lead to death.
Precautions for Nipah Virus
Follow these simple measures to prevent the outbreak of Nipah virus. Do not eat any fruits which have been partly eaten by bats or other animals. Before consuming fruits, clean it sufficiently to remove any traces of animal excreta. Refrain from drinking toddy brewed in open bowls placed near palm trees. If anyone in your family gets infected with Nipah virus, do not come in direct contact with him. Clothes and utensils of infected patients should be cleaned separately and maintained hygienically.