Aducanumab: FDA approved new drug against Alzheimer's disease after two decades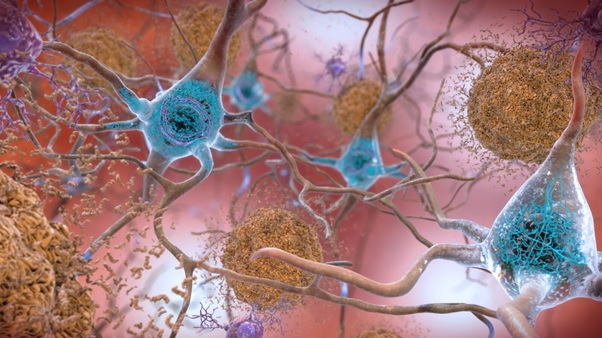 Reading Time:
4
minutes
Dr. Juni Banerjee, PhD; Neucrad Health Desk, June 26, 2021
Alzheimer's disease (AD) affects nearly 50 million people all over the globe. It is a serious neurodegenerative disease whose pathology is mainly driven by the deposition of amyloid-β (Aβ) plaques in the brain, accompanied by brain atrophy, synaptic dysfunction, neurodegeneration, and clinical dementia.
With more and more people getting diagnosed with Alzheimer's every year, there is an utmost requirement for effective therapeutics against AD. However, the development of Antibody-based immunotherapy for AD has gained much attention. Of note, FDA has currently approved Aducanumab (or Aduhelm), an antibody that selectively targets and reduces Aβ plaques. Let's learn about Aducanumab, its pharmacodynamics, clinical trials, working mechanisms, and the significance of approval against AD.
Pharmacodynamics of Aducanumab
FDA's approval marked Aducanumab as the first new drug for treating Alzheimer's disease after two decades. Aducanumab is a human monoclonal IgG1 antibody that targets and binds to extracellular amyloid-β plaques, reducing the overall amyloid plaques in the brain. It is given once every 4 weeks and hence works for a long period. This recombinant human monoclonal antibody is derived from a healthy donor population that either lacks or has unusually slow signs of cognitive impairment/decline. 
In 2011, Biogen conducted phase 1 trials for aducanumab by intravenously administering a single increasing dose of Aducanumab to mild to moderate AD participants and demonstrated a good safety profile in comparison to participants receiving the placebo dose only.
In 2018, Biogen also initiated a phase 2 randomized clinical trial with a very limited number of participants (total 52) to test the efficacy of Aducanumab intravenous infusion.
From 2015, Biogen conducted phase 3 clinical trials but needed to increase the size of the trial i.e., Alzheimer patient participants from 1350 to 1650 to maintain statistical power in the face of a high standard deviation.
In March 2019, aducanumab's development had to be discontinued as out of the two-phase 3 clinical trials, the second trial did not meet the primary endpoint.
However, Aduhelm demonstrated a reduction in the brain's amyloid plaque levels in both doses- and time-dependent fashion. Later in Oct 2019, Biogen once again sought FDA approval after reanalysing the trial data.
Aducanumab has been granted conditional approval by FDA approval on 7 June 2021 meaning its continued approval will depend on further trial confirmations.
Aducanumab: Mechanism of action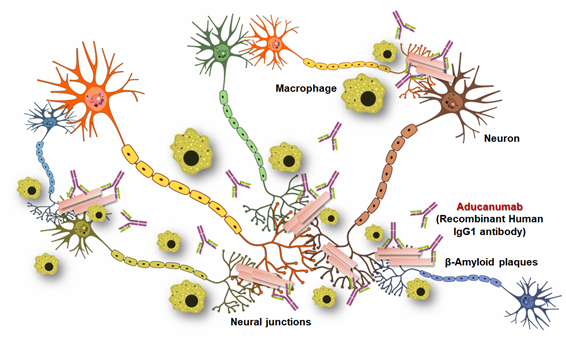 Insoluble Aβ fibrils represent the core of amyloid plaques and are one of the main pathological hallmarks of AD. Passive immunotherapy using anti-Aβ antibodies is being utilized as an approach for AD treatment that decreases Aβ plaque accumulation in the Alzheimer patient's brain. Various working mechanisms have been hypothesized to work individually or in combination, depending on the stage of Alzheimer and specificity of the given Aβ vaccine 1) reducing Aβ production, 2) degrading or clearing Aβ aggregates, 3) blocking Aβ aggregation, and (4) neutralizing toxic Aβ aggregates.
Aducanumab, the monoclonal IgG1 antibody binds to amyloid-β at amino acids 3-7. It has been found that the amyloid-β residues Phe4, His6, Glu3, and Arg5 are mainly responsible for the contact between amyloid-β and aducanumab's Fab region. Both human and mice study data demonstrated that aducanumab treatment reduces amyloid-β plaques inside the AD patient's brain. In particular, Clinical Dementia Rating, Mini-Mental State Examination, and levels of p-tau in CSF (cerebrospinal fluid) showed that aducanumab treatment can slow the rate of Alzheimer's disease progression. Scientists observed an interesting fact that after binding with specific amino acid residues of reduces amyloid-β, there are huge accumulation of macrophages at the site of interactions. These macrophages probably the main cause of amyloid-β clearance without the sign of any micro-haemorrhage.
Conclusion
FDA is still keeping a watch on Biogen's post-approval clinical trial in order to evaluate the drug's clinical benefit against AD. We hope that the drug proves its effectiveness and benefits the human race against Alzheimer's Disease.
References:
Yiannopoulou KG, Papageorgiou SG. Current and Future Treatments in Alzheimer Disease: An Update. J Cent Nerv Syst Dis. 2020;12:1179573520907397. Published 2020 Feb 29. doi:10.1177/1179573520907397
Mendiola-Precoma J, Berumen LC, Padilla K, Garcia-Alcocer G. Therapies for Prevention and Treatment of Alzheimer's Disease. Biomed Res Int. 2016;2016:2589276. doi:10.1155/2016/2589276
Briggs R, Kennelly SP, O'Neill D. Drug treatments in Alzheimer's disease. Clin Med (Lond). 2016;16(3):247-253. doi:10.7861/clinmedicine.16-3-247
Schneider L. A resurrection of aducanumab for Alzheimer's disease. Lancet Neurol. 2020 Feb;19(2):111-112. doi: 10.1016/S1474-4422(19)30480-6. Epub 2019 Dec 4. PMID: 31978357.
Budd Haeberlein S, O'Gorman J, Chiao P, Bussière T, von Rosenstiel P, Tian Y, Zhu Y, von Hehn C, Gheuens S, Skordos L, Chen T, Sandrock A. Clinical Development of Aducanumab, an Anti-Aβ Human Monoclonal Antibody Being Investigated for the Treatment of Early Alzheimer's Disease. J Prev Alzheimers Dis. 2017;4(4):255-263. doi: 10.14283/jpad.2017.39. PMID: 29181491.
Leinenga G, Koh WK, Götz J. A comparative study of the effects of Aducanumab and scanning ultrasound on amyloid plaques and behavior in the APP23 mouse model of Alzheimer disease. Alzheimers Res Ther. 2021 Apr 9;13(1):76. doi: 10.1186/s13195-021-00809-4. PMID: 33836798; PMCID: PMC8035770.
Selkoe DJ. Alzheimer disease and aducanumab: adjusting our approach. Nat Rev Neurol. 2019 Jul;15(7):365-366. doi: 10.1038/s41582-019-0205-1. PMID: 31138932.
Sevigny J, Chiao P, Bussière T, Weinreb PH, Williams L, Maier M, Dunstan R, Salloway S, Chen T, Ling Y, O'Gorman J, Qian F, Arastu M, Li M, Chollate S, Brennan MS, Quintero-Monzon O, Scannevin RH, Arnold HM, Engber T, Rhodes K, Ferrero J, Hang Y, Mikulskis A, Grimm J, Hock C, Nitsch RM, Sandrock A. The antibody aducanumab reduces Aβ plaques in Alzheimer's disease. Nature. 2016 Sep 1;537(7618):50-6. doi: 10.1038/nature19323. Update in: Nature. 2017 Jun 21;546(7659):564. PMID: 27582220.