About half a lakh measles-related deaths averted in India due to vaccination programs, says study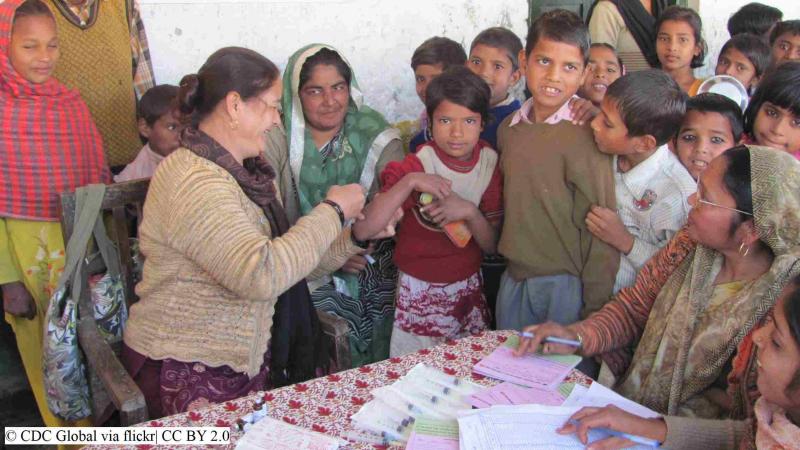 Reading Time:
3
minutes
By Purabi Deshpande, Research Matters; neucrad health – March 19, 2019
In the past few months, the world has been taken aback by the measles outbreaks in countries like France, New Zealand and the United States that were thought to be measles-free. Experts put the blame partly on the growing "anti-vaxx" movement, which has ill-informed parents refusing to vaccinate their kids fearing unintended consequences like autism, which has been wrongly associated with measles vaccines. In such an atmosphere of fear, science has a different story to tell.
"Vaccine complacency or the anti-vaxxers trying to scare people, paired with irresponsible Facebook and other social media who allow such harm to go unchecked are the major culprits in such outbreaks," says Dr Prabhat Jha a leading Canadian-Indian epidemiologist from the University of Toronto, Canada.
In a recent study, Dr Jha and other researchers from King George's Medical University, Lucknow; Ministry of Health and Family Welfare; Post Graduate Institute of Medical Education and Research, Chandigarh, and the Indian Council of Medical Research have analysed the impact of the national measles immunisation campaign in India. The findings of the study were published in the journal eLife.
Measles is a highly infectious and potentially fatal disease caused by the virus Measles morbillivirus. Its symptoms include fever, runny nose, red eyes with rashes appearing all over the body. Spreading through the air or direct contact, nine out of ten unimmunised people in a room can contract the disease from an infected person, with young children below the age of five at the highest risk. More than a third of all measles deaths worldwide are among children in India. The government had launched widespread immunisation campaigns in 2005 to tackle this.
"Routine vaccination is mostly done through schemes by the Integrated Child Development Services (ICDS) and the Ministry of Health and Family Welfare (MOHFW)", explains Dr Jha, adding that they are 'passive' and rely on families to show up at health clinics or respond to local health workers. "The campaign launched in 2005 strengthened routine vaccination, but more importantly, adopted special days on which teams went out to find eligible kids who had been given two doses earlier. This is an 'active' method", he says, talking about the changes in the vaccination regimes.
The researchers analysed the impact of this campaign by studying 27,000 cases of measles across the country and carrying out a statistical analysis on them. They found a significant decrease in the number of measles-related deaths among infants aged 1-59 months, from 62,000 in 2005 to 24,000 in 2015, after the launch of the campaign. About an estimated 41,000 to 56,000 measles deaths had been averted between 2010 to 2013 in children under the age of five years. The average annual rate of reduction in measles rose from 12% before the campaign to 22% overall in India. This success can be attributed to the increased campaigning in target states of Madhya Pradesh, Uttar Pradesh, Rajasthan, Chhattisgarh and Gujarat. Interestingly, there was a lesser number of deaths among young girls than boys due to the campaign.
So, how far are we from eradicating the disease from India? "Measles deaths might be eliminated but not measles cases," remarks Dr Jha. "This would require very high levels of coverage so that any individual infected will be unable to spread it to any others as they would be vaccinated. You need both intervention and monitoring to wipe out a disease", he says, giving an example of the polio disease, which was successfully eradicated with vaccines and disease detection.
These results of the study are a testament to not only how well vaccines work against measles but also to the importance of "active" vaccination schemes that make vaccines more accessible to the public and spread awareness. In an age where there is increasing propaganda against science that can be potentially life-threatening, this study highlights the irreplaceable place of vaccinations in modern society.
Source: The impact of measles immunization campaigns in India using a nationally representative sample of 27,000 child deaths