Stroke Risk of Covid-19 Patients may Depend on Certain Conditions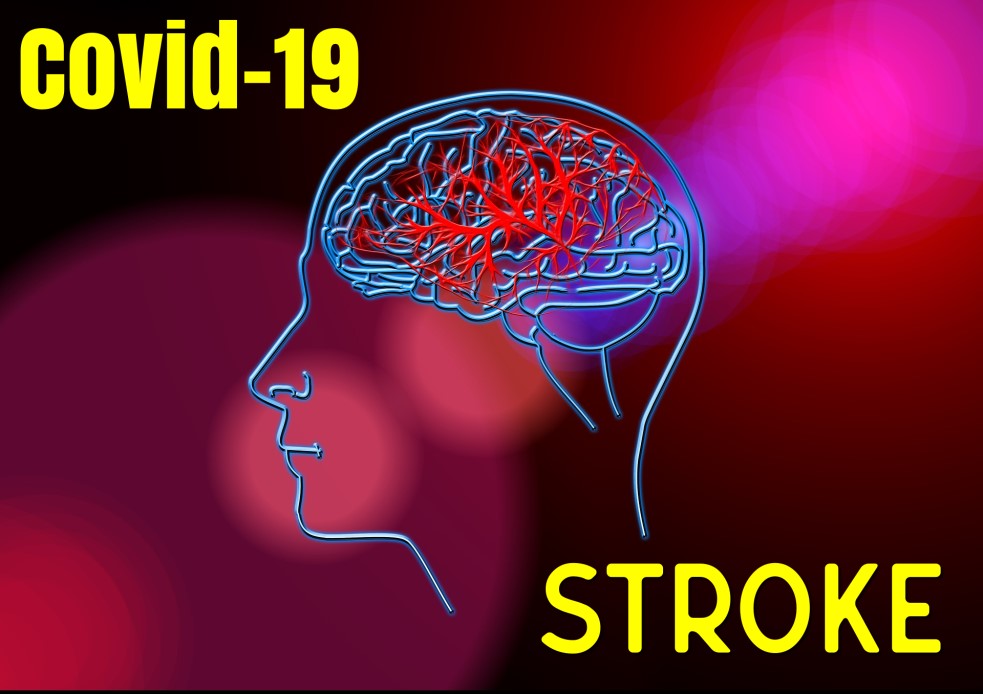 Reading Time:
4
minutes
Dr. Shuvomoy Banerjee, PhD; from Neucrad Health desk, August 11, 2020
Covid-19 pandemic continues its severity around the world. Rigorous scientific research so far has revealed the potentiality of SARS-Cov2 virus to affect infected person's lungs, brain and nervous system. When researchers from the Department of Neurology (Union Hospital in China, Wuhan) and New York University School of Medicine (United States, New York) reported that novel coronavirus infection can lead to stroke, doctors became obviously worried worldwide.
However, very recently, researchers at the University of Pennsylvania, School of Medicine conducted a detailed study and reported that Covid-19 patients who have pre-existing high blood pressure and diabetes are more likely to have a stroke. It has also been found that otherwise the chances of having a stroke in Covid-19 infections are very low! Their work was published in the American Heart Association's journal "Stroke".
It may be a bit of relief to some but not for all! Hence, we all need to understand:
The science behind stroke,
Its effect on human health and
What does the novel coronavirus have to do with stroke?
Stroke:
The famous Swiss pathologist Johann Jakob Wepfer (1620-1695) first observed that damage to the blood vessels in the brain results in formation of blood clots inside the blood vessels thus, disrupting the supply of both blood and oxygen to the brain cells. This is the leading cause of stroke and it's often referred to as a 'brain attack' where a person may face sudden numbness or paralysis or even death.
Types of strokes and its effects on human health:
1. Ischemic Stroke– This type of stroke has two parts- one is thrombotic and the other is embolic. In case of a thrombotic stroke, blood clots are formed inside the cerebral blood vessels that block the cerebral circulation. However, when blood clots are formed in other parts of the body (mainly in the blood vessels of the heart) reaches the brain during circulation and causes blockage of the cerebral circulation, it's called embolic stroke.
2. Hemorrhagic Stroke– In this case, the cerebral arteries rupture causing the blood to spread and coagulate in the brain tissue, which leads to tremendous pressure increase between the skull and the brain. Such medical situations are called intracerebral hemorrhagic stroke.
3. Transient Ischemic Attack (TIA)– Sometimes the symptoms of a stroke appear in the body for a very short time. That is, the obstruction in the blood vessels by blood clots remains for a short time. However, TIA can predict major strokes in future.
Relationship between stroke and covid-19:
The Novel Coronavirus has been found to cause severe inflammation in the brain as a result of which fine blood clots may form inside the blood vessels leading to stroke and other neurological problems. These concerns were making the doctors worried because then stroke might prove to be a huge-risk to all the Covid-19 patients!
Very recently Dr. Brett Cucchiara, a renowned Stroke neurologist from the Department of Neurology at The Perelman School of Medicine, University of Pennsylvania, informed that of course, Covid-19 is related to stroke, but the deadly virus alone is not responsible for the stroke!
A study was conducted by Dr. Cucchiara and his team on 844 Novel corona infected patients from three different Philadelphia hospitals. They separately analysed the data for patients with intracranial hemorrhage. Surprisingly, the analysis revealed that:
Only 2.4% of patients had ischemic stroke but they all had high blood pressure.
0.9% of hospitalized Covid-19 patients had intracranial hemorrhage and their average age was over 64.
Their study also revealed that risk for stroke seems 7.5% higher among patients who recently had flu.
History of diabetes, critical illness and other risk-factors related to heart failure may add the likelihood of stroke.
Overall, Covid-19 patients from the young age group are less likely to have a stroke.
Some questions still remain to be confirmed like if the novel coronavirus can directly cause blood-clotting or cause damage to the 'Blood-Brain-Barrier" and if stroke in Covid-19 patients is due to an increase of blood pressure because of infection. Therefore, further thorough research is needed on more patients and different populations to understand the clear relationship between covid-19 and stroke and in order to find out its therapeutic intervention.
References:
Rothstein A, Oldridge O, Schwennesen H, Do D, Cucchiara BL. Acute Cerebrovascular Events in Hospitalized COVID-19 Patients [published online ahead of print, 2020 Jul 20]. Stroke. 2020;STROKEAHA120030995. doi:10.1161/STROKEAHA.120.030995
Yaghi S, Ishida K, Torres J, et al. SARS-CoV-2 and Stroke in a New York Healthcare System [published correction appears in Stroke. 2020 Aug;51(8):e179]. Stroke. 2020;51(7):2002-2011. doi:10.1161/STROKEAHA.120.030335
Mao L, Jin H, Wang M, et al. Neurologic Manifestations of Hospitalized Patients With Coronavirus Disease 2019 in Wuhan, China [published online ahead of print, 2020 Apr 10]. JAMA Neurol. 2020;77(6):1-9. doi:10.1001/jamaneurol.2020.1127
Merkler AE, Parikh NS, Mir S, et al. Risk of Ischemic Stroke in Patients With Coronavirus Disease 2019 (COVID-19) vs Patients With Influenza [published online ahead of print, 2020 Jul 2]. JAMA Neurol. 2020;e202730. doi:10.1001/jamaneurol.2020.2730
Qureshi AI, Abd-Allah F, Al-Senani F, et al. Management of acute ischemic stroke in patients with COVID-19 infection: Report of an international panel [published correction appears in Int J Stroke. 2020 Jun 22;:1747493020935396]. Int J Stroke. 2020;15(5):540-554. doi:10.1177/1747493020923234
Moskowitz MA, Lo EH, Iadecola C. The science of stroke: mechanisms in search of treatments [published correction appears in Neuron. 2010 Oct 6;68(1):161]. Neuron. 2010;67(2):181-198. doi:10.1016/j.neuron.2010.07.002
Boehme AK, Esenwa C, Elkind MS. Stroke Risk Factors, Genetics, and Prevention. Circ Res. 2017;120(3):472-495. doi:10.1161/CIRCRESAHA.116.308398